Inspirational baseball player Rickey Hill and Jeff Celantano, who directed the movie based on Rickey's life, share more with Aleteia about faith and family.
After a number of years in the making, the incredible real-life story of Rickey Hill, who battled a degenerative spinal disease to play Major League Baseball, is depicted in the movie The Hill, released today.
The movie stars veteran actor Dennis Quaid as Hill's preacher father, who gives an impactful performance of a man of faith, dead set against his son becoming a baseball player, hoping he would follow in his own religious footsteps.
Aleteia got to talk with the baseball legend himself, as well as The Hill's passionate director, Jeff Celentano about the movie. Their joy and faith in the movie are contagious. This is part two of that conversation; read part one here.
Faith in the film
Aleteia: The theme of faith is strong in the movie, with Dennis Quaid being the perfect preacher. We hear some really powerful quotes from the Bible given by both Quaid and Rickey as a youngster. Rickey, did you really know all those quotes from Scripture by heart as a young boy?
Hill: I'll put it this way, I knew all the books from the Bible from Revelation all the way back to Genesis. And also, from Genesis all the way to Revelation. And I could quote them by heart.
Celentano: He used to preach in front of his house at the age 8 years old to the whole family … and he'd force them to "come outside" and he'd sit in his little pulpit and he would imitate his father … He knew all those things that you see in the movie and he knows them still today … His sister said that he really wanted to be a preacher, but baseball was something that was his passion. He wanted to follow that route but he said he couldn't do one without the other. Because God put him on the planet he felt for a purpose and that purpose was to play baseball and preach. And so he did both.
Aleteia: Yes, he did it very powerfully! As we can see in a scene in the film where Rickey, you're hitting the balls so powerfully that they went into a neighboring field. In your prime, could you really hit that hard?
Hill: No, I could hit them farther!
Celenatano: I'll tell you a funny story. People won't believe it so that's why I couldn't shoot it. But there are actually a couple of fields in front of that big stadium that he hit it over. He hit it over like almost two to three fields into the stadium. But now we're giving the story away, oh oh!
Briarcliff Entertainment / ©2023 Briarcliff Entertainment
Family support and fighting spirit
Aleteia: It's a film that can resonate with so many people as it talks about family life. Rickey, from the film your siblings seemed to be incredibly supportive of you.
Hill: They were. My brother was an older baseball player than me, 5 years older so I never played with anyone who wasn't five years older than me … so when I went out to play with them …  I had to perform like they did because I didn't want to have any exceptions and I wanted to be better than them even though they were five years older than me.
You have such fighting spirit. You always wanted to be better. Was that to prove something to yourself?
Hill: It was just in my blood. I didn't mind telling somebody that I was better than them. Because I knew it. It sounds cocky, but I don't mean it really as being cocky.
Celentano: Confidence!
Hill: I was very confident in my abilities. I could always back it up.
Celentano: He's still like it today!
The pair then go on to talk about the experience of watching the screening at Lakeside Church and how it moved Hill and the audience to tears.
Hill: I've never had an experience like this. I've still got chills up and down my spine that came out of that church. Yes, am I a faithful man of God? Yes, I am. I'm proud to proclaim that I didn't know that you could take it to another level.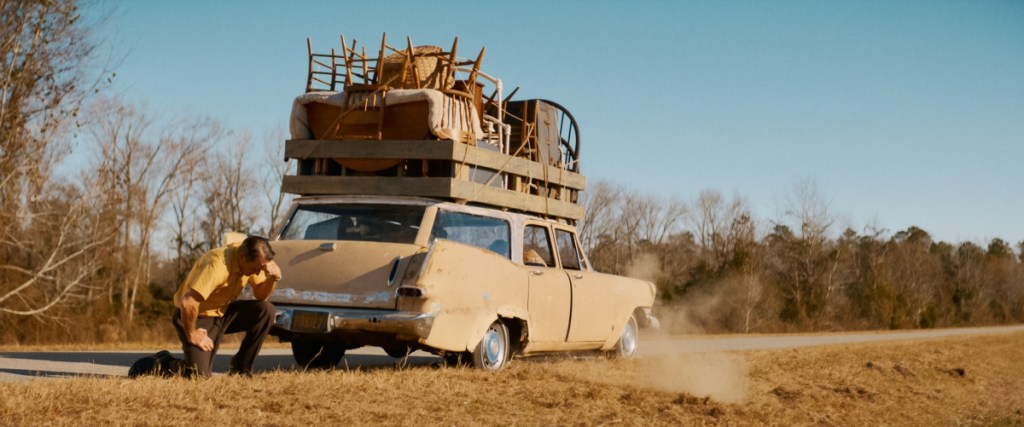 Briarcliff Entertainment / ©2023 Briarcliff Entertainment
An earthly and heavenly father's influence
Aleteia: Your father was such a man of faith. It was lovely to see how he comes around to support you. And that's a great takeaway from this film, how much children and parents can learn from each other.
Hill: Exactly, I agree with you. It was an amazing feat, not just for me. The beautiful part is even though I went years playing baseball, I was still in the ministry talking to people about God, the Lord, how to be connected to Christ. I went through all those things on the road playing baseball. So I got to do both.
I always say that I would play until the tire goes flat. And the tire did go flat, and I couldn't play anymore. And I would wonder why God would take this away from me. I got to accomplish what I accomplished.  The next thing you know I was paralyzed on the field. This was not in the movie. I was paralyzed. I did make it six years. They said I couldn't even play one.
All of this didn't happen to me for a reason. I don't believe there's a reason for everything. I believe in Christ and I believe in the higher power of course. We're responsible for ourselves, right, we are. Me doing what happened, I guess I'm so stubborn headed you couldn't stop me. I just couldn't help it.
Aleteia: The movie has such a broad appeal and it's so endearing. Rickey, we're rooting for you all the way along in the movie, you can do this, and you proved us right.
Hill: I have to give Jeff glory for this. I don't do this very often. I don't give anybody glory. I give Christ glory. I give him glory because this guy fought as hard as I did in life for me. He fought just as hard as me to make this movie on anything that I've ever done, he stepped up to the plate, he never quit until he took it out of the park.
Watch the trailer for The Hill below.