Aleteia attended the opening of a new museum and visitor center dedicated to St. Elizabeth Ann Seton. We share some highlights with our readers.
On Friday, September 22, the National Shrine of St. Elizabeth Ann Seton celebrated the grand opening of its new $4 million museum and visitor center in Emmitsburg, Maryland.
The first American-born saint, Elizabeth Ann Seton converted to Catholicism after the death of her beloved husband, William, in 1803. She entered the Catholic Church in 1805, and in 1809 founded a religious congregation, the Sisters of Charity of St. Joseph in Emmitsburg. It was the first religious community for women founded in the United States.
The roots of Catholic education in the US can also be traced to Mother Seton through schools that she founded. Daughters and Sisters of Charity continue to play a vibrant role in the life of the Church through congregations in the US and Canada, especially in their service to the poor and disadvantaged.
Gateway to a saint
The new museum and visitor center focuses on these achievements, but also on St. Elizabeth's personal journey – a life story that encompassed joy and suffering, spiritual discovery, and service to others in imitation of Christ.
Late Friday morning, hundreds of people entered the Basilica where St. Elizabeth's body is entombed for a Mass celebrated by Archbishop William E. Lori of Baltimore. In his homily, Archbishop Lori declared that the new facility was "like a gateway (…) The museum with its precious artifacts and interactive displays invites us to grow in appreciation of the spiritual journey that Elizabeth Ann Seton underwent, to strive for the sanctity that she attained, and to embrace her legacy of loving service …"
John Touhey | Aleteia
"Plenty of new things"
Among the attendees was Shannon Boyle, a native of the Emmitsburg area. The celebration had particular significance for her as she worked for the Sisters of Charity for 45 years and also attended Mother Seton's canonization in 1975. "It's something you never forget," Boyle says of that day. Going through the museum, she was impressed by the number of relics that organizers had gathered. "Even though I worked here all those years, there are plenty of new things to see."
Elizabeth, the seeker
The museum consists of three galleries containing holy artifacts, dramatized videos, and interactive displays. The first gallery, "Seeker," focuses on St. Elizabeth's difficult early years, her idyllic marriage to William Magee Seton at age 19, her sudden widowhood while the young couple was in Italy, and her conversion to the Catholic faith. Among the treasures in this section are miniature life portraits of Elizabeth and William, along with her wedding ring and a christening dress she made for her daughter Catherine.
There are also an impressive number of original books and manuscripts on display, some in Elizabeth Seton's own hand – including one of her commonplace books, where the young Elizabeth would write down parts of stories, poems, and other writings that interested her.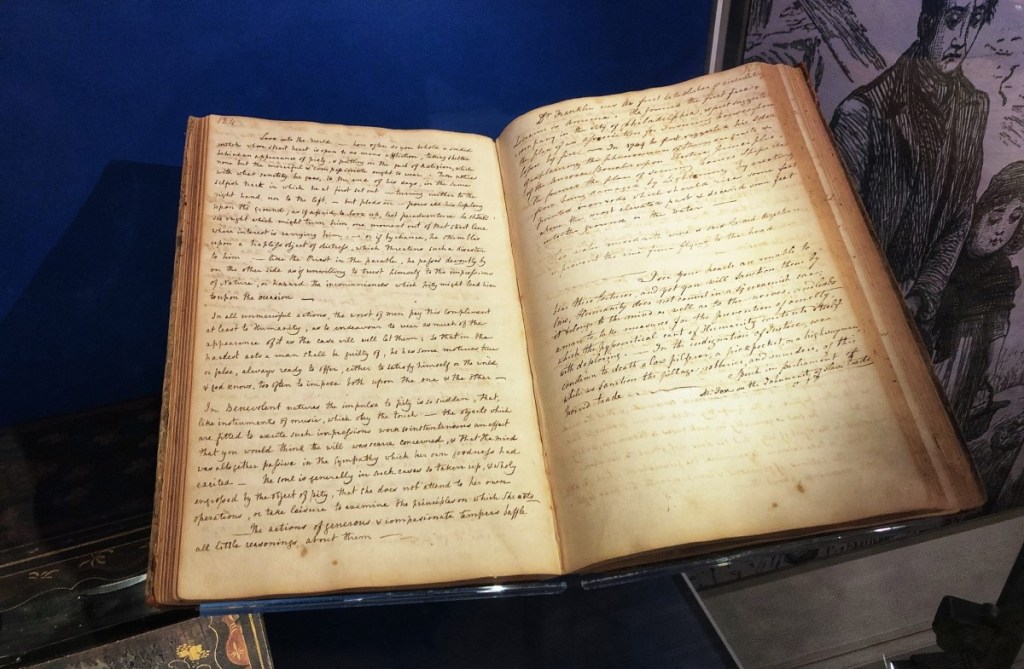 John Touhey | Aleteia
A servant's bonnet
The next gallery, "Servant," is dedicated to the foundation of the Sisters of Charity, St. Elizabeth's maturing spirituality, and her many years devoted to the spiritual, intellectual, and material welfare of others.
"When Mother Seton decided to convert, she was invited to Baltimore by Bishop John Carroll," recounted Becca Corbell, the Shrine's Associate Program Director. "He was the only Bishop of the United States at the time and had heard of Mother Seton. Catholics today will often say, 'Oh, the Catholic world is very small.' It was particularly small in the early 1800s."
Corbell led us to one of her favorite relics: Mother Seton's iconic black bonnet and shawl. "There is an 'S' sewn on the back, so that when (the Sisters) did laundry they would know it was hers. So, we know this was hers. That's very exciting."
The bonnet was donated to the museum by the Sisters of Charity of New York, as were many other objects on display. Many of them can be safely displayed for the first time thanks to technology that allows light, temperature, and humidity to be carefully manipulated within each gallery and in the display cases.
A saint for the suffering
The final gallery, "Saint," is dominated by the very banner that was on display in St. Peter's Square during St. Elizabeth Ann Seton's canonization. The gallery also tells the stories of those whose lives were touched by Mother Seton, including Ann O'Neill. At the age of four, Ann was diagnosed at St. Agnes Hospital in Baltimore, Maryland, with acute lymphatic leukemia and sent home to die. Many at the hospital prayed for Mother Seton's intercession and Ann's mother traveled to Emmitsburg to pray before her relics. Soon afterward, little Ann was healed. It was one of the miracles that led to St. Elizabeth's canonization.
The museum makes it clear just how approachable St. Elizabeth Ann Seton is for those who are suffering. From a young age, she had to face the same hardships that most of us encounter at one moment or another – uncertainty and sadness, bankruptcy, and the loss of family members including her husband and two daughters.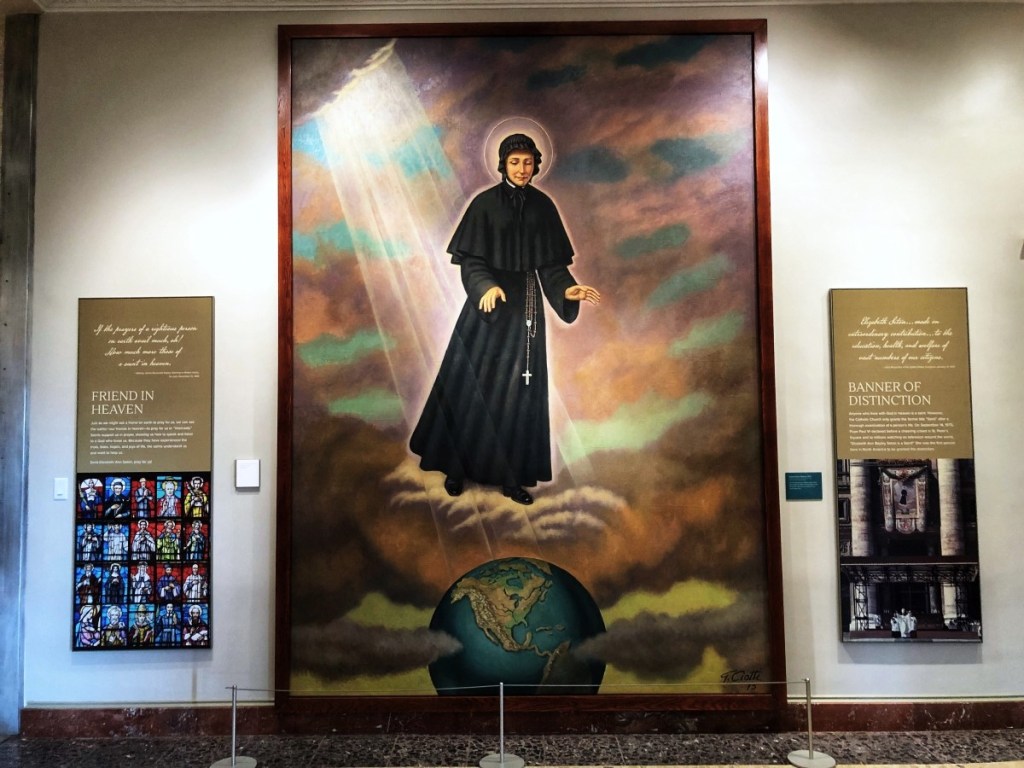 John Touhey | Aleteia
A story that can change lives
Highlighting these aspects of St. Elizabeth's life was a deliberate choice, according to Tony Dilulio, the shrine's Programs Director:
I think it's really important for people today to understand that Mother Seton was not the stuffy schoolteacher that, say, I thought she was when I was a kid. She had this dynamic life, this incredible story that the Holy Spirit wrote of her life that has episodes that can inspire and encourage people of all walks of life.
"Stories change lives," Delilio continued. "And her story really inspires people. Even in the few days we've had this open, I see people coming through with tears in their eyes because they connect with her."
To continue our tour of the shrine and new museum, view the slideshow below. You can find out more about the Shrine of St. Elizabeth Ann Seton and the new museum and visitor center at their website.
Launch the slideshow