San Fernando Cathedral is a historic icon in the heart of San Antonio, Texas. Its history is deeply intertwined with the rich tapestry of Texan culture.
San Fernando Cathedral stands in the very heart of San Antonio, Texas, as a symbol of religious devotion and historical significance. Even to this day, this venerable structure is not only one of the oldest functioning cathedrals in the United States (if not the oldest one) but also the mother church of the Archdiocese of San Antonio, the seat of its archbishop, and as the city's cultural and geographical center. The cathedral is also known as the Church of Nuestra Señora de la Candelaria y Guadalupe (two typically Spanish Marian devotions) and is listed on the National Register of Historic Places.
Needless to say, the cathedral's history is deeply intertwined with the founding of San Antonio and the rich tapestry of Texan culture.
The origins of San Fernando Cathedral can be traced back to the early 18th century, when Spanish settlers established the Mission San Antonio de Padua in 1718. The cathedral itself was built between 1738 and 1750 as the Church of San Fernando (after king Ferdinand III of Castille, who ruled in the 13th ccntury) by settlers from the Canary Islands, who were brought to the area by the Spanish government to bolster the colony's population. These settlers, known as Isleños (Spanish for islanders), played a crucial role in the development of San Antonio and the construction of the cathedral. Indeed, Our Lady of La Candelaria is the patroness of the Canary Islands – hence the other name of the church.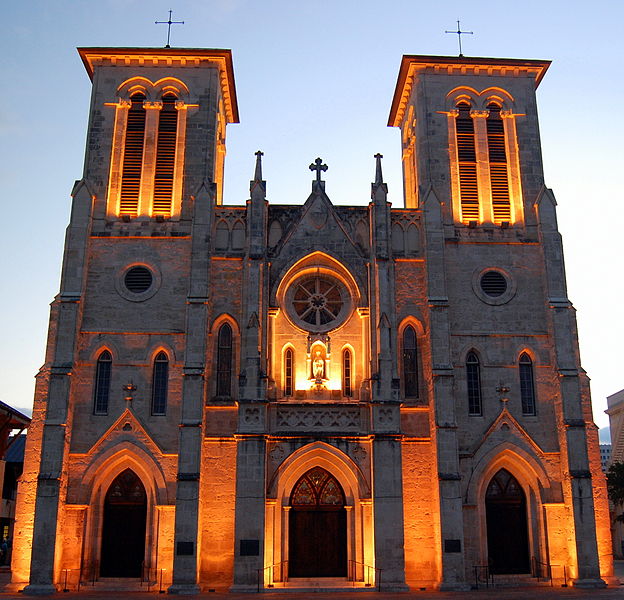 The cathedral has undergone several renovations and reconstructions over the centuries, with the current structure completed in 1873-74. For example, whereas the baptismal font (believed to be a gift from Charles III, who became King of Spain in 1759) is the oldest piece of liturgical furnishing in the cathedral, the stained-glass windows were added in the 1920s.  
One of the most notable features of San Fernando Cathedral is the Spanish Governor's Palace, which stands adjacent to it. This palace served as the seat of the Spanish government in the region and is a testament to the colonial history of San Antonio.
The cathedral's significance extends beyond its religious role: It has served as a focal point for major historical events, including the Battle of the Alamo. In fact, when the cathedral was still a parish church back in in 1836, Mexican General Antonio López de Santa Ana hoisted the flag of "no quarter" from the church's tower, thus marking the beginning of the siege.
The ashes of the heroes who died defending the Alamo on March 6, 1836, are interred in this cathedral.