Pope Francis showed his delight at spending the afternoon with thousands of kids, speaking to them about current events, taking care of the world, and concrete tips.
In a festive atmosphere, Pope Francis spent over an hour with 7,000 children from all over the world at the Vatican on the afternoon of November 6, 2023. Although he had admitted that he was feeling a bit under the weather when receiving rabbis this morning, now the Argentine Pontiff was alert and joyful. He conversed with his little guests, questioning them on issues of current events such as war and ecology. The theme of the event was "Let's learn from boys and girls."
"I am always happy when I meet you, because you teach me something new every time," he said, after they had energetically affirmed that there is much to learn from boys and girls. "For example, you remind me how beautiful life is in its simplicity, and you also teach me how good it is to be together! These are two great gifts from God: to be together and with simplicity."
Superhero in a wheelchair
Pope Francis arrived in Paul VI Hall in a wheelchair. There, he was welcomed like a "superhero" — in the words of the master of ceremonies — to this meeting organized by the Dicastery for Culture and Education. He then moved to his seat from where he would speak, surrounded by children and flanked on one edge of the stage by a huge globe.
In front of them, the Pontiff cut short his pre-prepared speech, admitting that he wanted to avoid being "boring." Instead he spent half an hour engaging in a question-and-answer session with children from Syria, Vietnam, Palestine, Peru, Italy, the Democratic Republic of Congo, the Philippines, Haiti, and Australia. 
In the course of this dialogue, he repeatedly interacted with the crowd, prompting the enthusiastic children to repeat slogans such as "Life is a gift," "We are all brothers and sisters," and "To destroy the earth is to destroy ourselves."
The 266th Pope also invited them to observe moments of silence, especially for children "killed in wars," referencing Palestine, Congo, Burma, Mozambique, and all the "hidden wars."
His answer to a little girl who introduced herself as of Palestinian descent was particularly poignant. Similarly, when a Ukrainian boy asked him how peace is made, he reflected that it was a difficult question.
This is a very difficult question. How do you make peace? Come, come here. How do you make peace, it is not easy to say. How do you make war – that's easier, because war is made with hatred, with revenge, hurting the other, and that comes from instinct. But peace, how is it done? Let's think for a minute about your question, which is very intelligent. His land is at war and he knows how much we need peace. I ask the question; let's think and then see how we answer. […] There is no method to learn how to make peace, no. There is a gesture: peace is made with the outstretched hand, with the hand of friendship outstretched, always trying to engage other people to go together. The outstretched hand. […] Peace is made with the heart and with the outstretched hand. Let's say it together, "peace is made with the heart and the outstretched hand."
Grandfatherly interaction
Returning several times to ecological themes, the soon-to-be 87-year-old Pontiff peppered his remarks with advice. For instance, he recommended not to "waste food," and to avoid throwing "your Coke bottle" into the sea.
He also gave some tips on how to behave, answering a girl who asked what to do when you feel angry: "When you're angry, before you answer, drink a glass of water," the Pope suggested. 
Smiling broadly, the head of the Catholic Church spent half an hour among the crowd, moving up and down the aisles in his wheelchair, scribbling autographs on the white caps and T-shirts handed to him by children over the barriers. After the event, the Pope also went to St. Peter's station inside the Vatican, where several hundred children were due to board one of the trains chartered for the occasion for their return journey. 
Earlier in the morning, while receiving the Conference of European Rabbis, the Pope had apologized for not reading his speech, admitting, "I'm not feeling well." The Holy See Press Office later explained that Pope Francis had "a bit of a cold" and wished to greet the rabbis "individually." His audiences for the day continued as usual.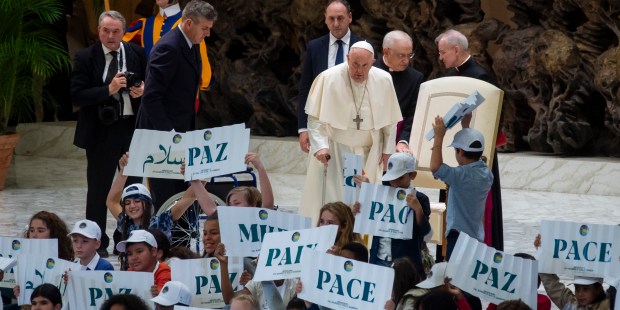 Launch the slideshow