The ancient Monastery of Glendalough was one of the many Irish spiritual powerhouses that played a pivotal role in shaping the country's Christian heritage.
The Glendalough Valley is nestled within the serene, lush Wicklow Mountains. Its natural beauty is only comparable to its historical, cultural, and spiritual significance. Impressive as the glacial valley itself can be, this eastern Irish landmark is better known for the famed Early Medieval monastic settlement founded in the 6th century by St. Kevin – the ancient Monastery of Glendalough, one of the many Irish spiritual powerhouses that played a pivotal role in shaping the country's Christian heritage.
The name "Glendalough" is derived from the Irish Gleann Dá Loch – "the valley of the two lakes." Indeed, the valley is punctuated by two serene lakes, the Upperand the Lower, surrounded by lush forests and craggy peaks. It is no wonder that St. Kevin chose this spot for his spiritual retreat.
St. Kevin's hermitage eventually evolved into the Monastery of Glendalough, becoming one of Ireland's most prominent centers of religious learning and spiritual life. The monastic complex (a "monastic city" of sorts) is still today a beloved pilgrimage destination in Ireland, widely known for its impressive stone buildings, including the Glendalough Cathedral, St. Kevin's Church, and numerous stone crosses and other smaller chapels. The round tower is a particularly striking feature, standing at over 30 meters in height. Built of local mica-slate and granite, these towers served as a place of refuge during times of Viking raids.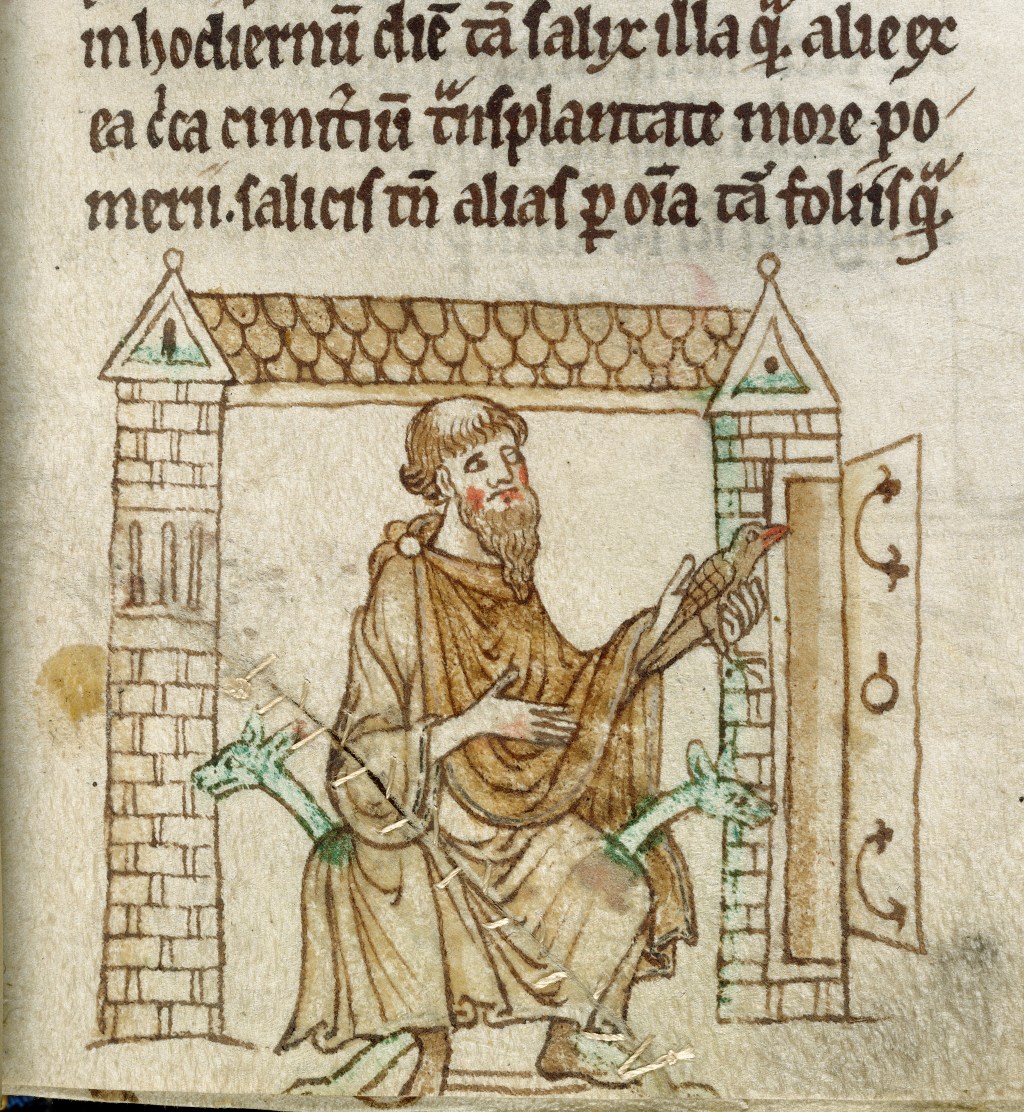 BRITISH LIBRARY / AURIMAGES
St. Kevin himself, often depicted with a blackbird and his arms extended in prayer, is the patron saint of Glendalough. His ascetic lifestyle, which included living in a cave as a hermit and communing with nature, is the bedrock of the enduring appeal of this place. Pilgrims and visitors come to pay homage to his memory.
The Wicklow Mountains, surrounding Glendalough, provide a stunning backdrop to the monastery. The rugged landscape, with its rolling hills and dense woodlands, offers an inspiring setting for reflection and contemplation.
Today, Glendalough continues to attract pilgrims and tourists, drawing them into a world of both ancient spirituality and natural beauty. The landscape invites hikers, nature enthusiasts, and rock climbers, while the monastic ruins make faith and solitude merge seamlessly with the untamed beauty of the valley.