The relationship runs the risk of not surviving this devastating tragedy unless there are sufficient supports in place.
What can God do in your life with one Bible verse a day?
Subscribe to Aleteia's new service and bring Scripture into your morning:
Just one verse each day.
Click to bring God's word to your inbox
Is there any suffering more unbearable than the death of a child? Parents, couples, and families who've had to endure such an event, so contrary to the natural order of things, grieve deeply and for a very long time. A couple facing the loss of a child risks being shipwrecked if they do so alone, isolated in their grief.
Extreme suffering lived in parallel but preventing communion
That's what almost happened to Marian and Eduard after the death of their little daughter, Juliette. They were a solid couple, at least that's what they thought. But the extreme suffering experienced by both, in parallel, prevented them from finding each other, each one immersed in their own pain. Eduard immersed himself in work so as not to think too much about it. He could not exteriorize his feelings the way Marian did — he didn't know how — even though he felt exhausted, empty, devastated.
As for Marian, she thought her husband didn't seem too upset, that he seemed a little indifferent. So she couldn't share with him the inner storm she was living in. She also felt guilty: "I call myself a Christian and I feel that I don't trust God enough. What has happened to my faith?"
The importance of accepting help
Friends advised them to seek help. It took a while for them to take the step, sealed off in their universe of suffering and death. But once they crossed the threshold they were able, together and individually, to find a therapist and participate in a group of parents who had also lost children.
Marian and Eduard heard a mother there say that, seeing her son die, she uttered within herself these words: "Lord, let not my will but Yours be done." They still felt very far from being able to say those words. But they were able to share their experience and sincerely express the feelings that inhabited them, without feeling judged. Others have also been through experiences like this, and the pain that everyone tends to consider unique, incomprehensible to others except for their spouse, can truly be shared and understood.
Little by little, Marian and Eduard were able to understand how the other was suffering, too. They were able to open up again to each other, change their behavior, accept each other as they were, and support each other in this very corrosive and painful ordeal. It became an opportunity to rebuild their life together.
Marie-Noël Florant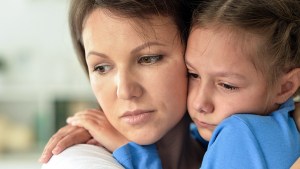 Read more:
How to explain the sudden death of a loved one to a child