As parents there are ways to bring joy back to the family table.
"Eat this bite, and you can have ________" is a phrase every parent is familiar with. Even for those of us with "good" eaters, there are days when it seems like our little one has eaten next to nothing and we're desperate to get some sort of solid food into his or her belly by employing all sorts of long-standing parental tricks.
In her new book, Food Fight, Chef Gigi Gaggero explains why fallback tactics like bargaining over food choices with (or even making spoons into tiny "airplanes" for) our kids does not set them up for making good food choices later on in life, and how to effectively battle even the finickiest of appetites.
"Ultimately, a lot of pickiness comes down to a power struggle," says Chef Gigi (although in her book, she acknowledges that some pickiness definitely comes from legitimate allergies, intolerances, and other special needs). In the cases where your little one seems more hungry for control than for actual food, Chef Gigi invites parents to "Parent Up!" and ditch the short-order cook lifestyle that too many of us can fall into in an effort to appease the many competing food preferences in our households (which, by the way, only encourages picky eating instead of combating it). To help parents do so, Chef Gigi offers many different (and honest — no lying about hidden vegetables!) tricks and tips for making delicious and nutritious foods that — with time and patience — will hopefully win over even the pickiest eaters. "It is just as important to exercise our kids' palates as it is to exercise their bodies," says Chef Gigi.
One tool that Chef Gigi highly recommends that every parent has in their arsenal (ahem, pantry) are foods that are full of umami flavor. Despite its discovery by Japanese scientists in 1908, umami didn't start appearing in the language of professional chefs until 1985.
Umami can be elusive to describe, but you know it when you taste it. Think for a moment of the unctuous, savory, tongue-coating flavor of sauteed mushrooms, expertly cooked steak, homemade bone broths, soy sauce, tomatoes and tomato paste, and see how it immediately gets your salivary glands going: that, in a nutshell, is umami, and for Chef Gigi, it is one of the best tools for getting picky eaters interested in new foods.
"When I would tell people in my parent cooking classes to use fish sauce when cooking for their families, they would just laugh! But then I would do tastings with just the right amount of umami-rich fish sauce in the dish, and they would get it."
You see, with picky eaters, Chef Gigi knows that you might only get the one little touch of the tongue before your child decides she doesn't like it. So if that first bite is full of — or, even better, topped with — something rich and tasty that gets their salivary glands going and makes them want to come back for more, you've won a big battle in the fight against pickiness.
Another great tool for combating power-struggle induced pickiness is giving kids "closed" choices. Instead of asking them, "What would you like to eat?" which only paves the way for your continued career as a short-order home cook, give them a choice between two options. That way, your child still feels like they are getting to make a decision for themselves, but it puts a limit on what you're expected to produce.
This is a "Parenting Up!" tip that Chef Gigi not only recommends for mealtime, but in other situations, too. It's also important to remember that our respective stomachs are only about the size of our respective fists, and that portion sizes for toddlers therefore come in tablespoons — not cups! Kids are also known for fixating on certain foods for days at a time, and eating erratically (as in, like a linebacker one day and a fasting monk the next). "What you're going for with little ones is a well-balanced week of nutrition, not a single day," says Chef Gigi.   
Ultimately, Chef Gigi's goal is not only to restore peace to the family table and limit stressors on parents (and kids), but to bring back joy to it as well. "Family mealtime is so important," says Chef Gigi, "and it doesn't have to be dinner! Even waking up a little earlier a few times a week to have a home-cooked family breakfast is a great option, too."
Chef Gigi points out that families who eat meals together have kids who reap physical, emotional, social, and cognitive benefits — even into the future. Not to mention that when you're the one cooking, you know exactly what's going into your food. Yes, planning, preparing, and serving home-cooked meals at home takes a not-insignificant amount of time and effort, "But," says Chef Gigi, "think of it as making time now, to save a lot of time later." Plus, Chef Gigi notes that she has taught parents in her family culinary classes how to grocery shop, meal plan, and prep more efficiently, so that the time-costs often do not end up exceeding the time it takes to go through a drive-through or sit down at a restaurant.
For some of us, this way of eating could mean a radical change to our busy lifestyles, but it's all a part of what Chef Gigi calls "slow parenting."
"Kids are just as over-scheduled and over-stressed as adults are," says Chef Gigi, "and it's time that we slow things down to sit around the family table together. Maybe that means we make the decision that having soccer practice five nights a week just isn't right for our family right now."
Ultimately, for Chef Gigi, it's about deciding what's best for our own families, and empowering parents and encouraging kids to make healthy decisions now that will continue to benefit them in the future.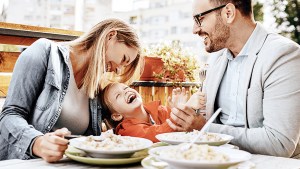 Read more:
This simple ritual will make family dinner the highlight of your day