But no matter how much time you have, here's how to maximize it.
What can God do in your life with one Bible verse a day?
Subscribe to Aleteia's new service and bring Scripture into your morning:
Just one verse each day.
Click to bring God's word to your inbox
At the beginning of the summer, we took a family vacation to "Camp de Papa." Papa is what my kids call my dad, and the "camp" was really an amazing house in Santa Fe that's popular with skiers in the winter time.
This being off-season, we took full advantage of the quiet town and minimal tourists and explored anything and everything. We wandered around the floating staircase at the Loretto Chapel, marveling at the architecture and the legend behind it. We spent several hours exploring the wonderful weirdness at Meow Wolf. We prowled through the Georgia O'Keefe museum, and we hit up a kids' museum and took turns painting each others' faces … We did anything and everything we could think of.
But what we didn't do was play the many games my sister and I had brought for family game night, or use the constellation-mapping app to stare up at the desert night, or lounge around reading books I had insisted the kids bring. We didn't have a lot of silly, relaxed family time until my last day there, four days in, when I finally managed to shift out of "working mom" mode and into vacation mode … 18 hours before cutting my vacation short and flying home to get back to work.
Mel Magazine recently broke down a Finnish study that discovered that while vacations are important for health and happiness, the length of the vacation is directly related to the quality of it (and its positive effects):
There's a certain amount of time you need to chill out so that the chilling-out sticks. This is more true now, because we live in an era when we're all tethered to the digital leash and often responsible for work after hours and on weekends. So if you can't wash off the stress of the daily grind on weeknights or weekends, a proper vacation is the only Hail Mary you've got left. But add to this that most of us can't really unplug on vacation and still check our phones anywhere from 80 to 300 times a day (as often as we check it while working) while we're supposed to be off the grid, and you can see the necessity for a vacation that actually accomplishes vacationing … Rather, there is a "core phase" of the vacation that constitutes a vacation sweet spot, and it's in the "medial 70 percent" of the vacation. You spend the first four days ramping up, the next four days ready to bust that vacation nut, and on day eight, look out, world. You are now what you might informally call "truly kickin' it." As a result, folks in the study who could kick it on peak vacation also slept more on vacation, averaging nearly an extra hours a night.
This is 100 percent true. It took me three and a half days to transition into vacation mode — I had "a little bit" of work to get done the first day that ended up taking the whole day and most of the night, and I also had messages to check, emails to answer, and doctors appointments to schedule for the kids. Doing all this in between the "vacationing" made it feel less like a vacation and more like normal life, just in someone else's really cool ski cabin.
As a result, I was still hardcore-bedtime Mom when 8 p.m. rolled around. It wasn't until the fourth day, when I had finally finished everything essential and then just turned my stupid phone off, that I really relaxed enough to enjoy my kids shenanigans, join in with them, and soak up the stress-free bonding-and-playing time. For eight whole hours.
The thing is, it's almost absurdly unrealistic for most of us to take a 10-day vacation as the study recommends. Even eight days is pushing it. A week max is usually all the work (and our wallets) will allow. But there are things we can do to maximize that time.
First and foremost, I should have made sure every single bit of work was finished before we loaded up the car. I should have left my laptop and tablet at home instead of bringing them "just in case." I also should have taken advantage of the travel time to make the appointments and do whatever last-minute connections I needed. And then I should have let all my colleagues know I was going off grid … and I should have actually gone off grid.
Those simple things could have changed the vacation for all of us, not just me. My kids could have enjoyed a mom who wasn't looking at her phone or typing on her laptop for four glorious days. I could have enjoyed being that mom, and basking in my kids' weird and wonderful hour-long stories or wacky attempts at composing riddles.
Instead, we only had eight hours — which, granted, is better than none. And I learned an important lesson — that how you vacation is as important, if not more so, as taking one in the first place.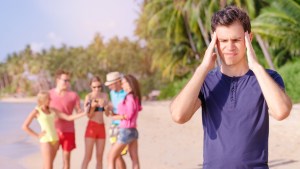 Read more:
5 Steps to leaving stress behind during summer vacation