This is the most important rule of thumb when you notice something is different ...
What can God do in your life with one Bible verse a day?
Subscribe to Aleteia's new service and bring Scripture into your morning:
Just one verse each day.
Click to bring God's word to your inbox
My son Liam just turned 8, and the last few months have seen bewildering and seemingly inexplicable changes in his behavior. Not too long after his 7th birthday, he straight-up stopped hugging me. Like the child would accept hugs when he was upset and crying, but only by slightly leaning into the hugger's arms. Under no circumstances would he return the hug, and it was always short-lived … he would pull away after only a few seconds.
This is the kid who was hands-down my cuddliest baby and toddler. He loved nothing more than being scooped up and held, rocked, or sang to. In fact, he didn't even begin crawling until he was almost 8 months old — and even then, it was only to reach the foot of the nearest adult to get their attention so they would pick him up.
So the dramatic change caught me off guard, but I tried to see it as a sign of his blossoming independence … and kept my tears out of his line of sight. When it persisted past a few months, I began to get concerned. But by the time I was genuinely worried, it all changed just like it had before. With no warning, Liam started giving me big hugs again — just before his 8th birthday.
I've been tempted to armchair psychoanalyze my son for a while now, but last weekend I came across an article at Scholastic that mercifully nipped that temptation in the bud by explaining that 8- to 10-year-olds are indeed consumed with navigating a new world of independence wherein they are learning to see themselves as individuals.
One component of social and emotional growth in 8- to 10-year-olds is their desire for increased independence from parents and siblings, and their increased desire to be seen as intelligent and knowledgeable. As they struggle to find the means to appropriately individuate, they can, at times, seem willful or defiant. Children begin negotiating for what they want or arguing their point of view, at home and with peers, applying their more highly developed thinking skills, advanced language abilities, and increased concentration skills … Recognizing your child's need to pull away will also go a long way to keeping you on the same team. Allow peers to take on new importance. They provide a "mini society" your child can visit and experiment with while maintaining the safety net of a loving and supportive family to fall back on.
Looking back, I can see that the beginning of Liam's standoffishness with physical affection began right after he started at yet another new school — and continued throughout a year of tumult and transition, including a cross-country move.
Likewise, his hugs returned once stability was reestablished — we're settled in Texas now and he's at a school that he loves. But most importantly, he has a group of friends who have adopted him enthusiastically into their club. They play soccer and gaga ball together, go to each other's birthday parties, sit together in class and at lunch — in short, he's found security in his social life. That security has allowed him to relax his desire to pull away from his family in order to establish independence — and truth be told, it's allowed him to relax in every other area as well.
I'm so glad I didn't allow myself to overanalyze the last several months, because if I had I could have easily concluded that he was facing some sort of crisis of emotional development. I could have taken what was not, in the end, an actual problem and turned it into one.
By stepping back and letting it play out, I gave Liam the freedom to work through it himself — and I gave myself the freedom to let him, no matter how hard it was to watch and wait.
Although I am deeply grateful for the availability of therapy and counseling services, I also think we parents need to be careful not to pathologize what might be perfectly normal development-driven behavior changes. I'm lucky to have had the advice I got from a friend who is a trained family counselor, to "watch and wait." It was hard advice to take, but in the end it was what my son needed most.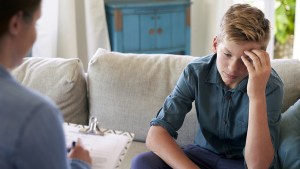 Read more:
How to tell if your child needs a therapist