The spirit of service of the Austrian ambassador to the Holy See is marked by his aristocratic Christian roots.
Eduard Habsburg-Lothringen is 51 years old and belongs to a deeply-rooted European aristocracy. His family reigned in Germany, Austria, Hungary, and Spain (with Carlos I). His great-grandparents were the Emperor Francisco José I and his famous wife, Sissi. Eduard himself is also known as Archduke Eduard of Austria. Today, he is a Hungarian-German writer, diplomat and social media personality who has served as ambassador of Hungary to the Holy See since 2015. He and his wife, Baroness Maria Theresia von Gudenus, have six children.
His family ruled Austria-Hungary with the title of Emperor of the Holy Roman Empire. November 11, 2018 marked the centenary of the family's abdication. Unlike in some countries where the royalty has renounced its political power, this abdication was not so much binding as definitive; the door is still open to future generations of the Habsburgs should some form of monarchy return. Today, the family maintains its line of succession of royal blood, and family members still usually marry other European aristocrats.
The Habsburgs also have a strong Catholic tradition. Eduard has a brother who is a priest, and Pope John Paul II beatified his relative, Blessed Charles of Austria, the last emperor of Austria and King of Hungary.
A family tradition of service
The Jesuit magazine of North America, America Magazine – The Jesuit Review, recently published an interview with Eduard Habsburg, in which Sean Salai, S.J., asked him how he combines his family history with an office of public service.
He replied that for centuries, "Most Habsburgs have been raised to serve their country or their empire. Service is deeply in our genes." He added that they also have "a strong feeling for Europe and the peaceful living-together of different nations under one roof — this is also something of a family heirloom." As far as becoming ambassador is concerned, he had this to say: It's "a job I would have never guessed I would have. Fate (or God) has a great sense of humor."
Saints that inspire him
When asked about his role models in the faith, the archduke responded: "I'll admit to being old-fashioned: Quite a few of my favorite saints are men." He mentioned St. Thomas More, who "tried to balance things as longas he could, spoke very clearly when necessary and had this incredible sense of humor literally to the last minutes of his life," said the ambassador. He also acknowledged his love for Pope Gregory the Great "for doing the right thing at a very difficult time of chaos and war."
He also mentioned his patron saint, Edward the Confessor, a man "whose reign was one of the very few peaceful ones of his time," and Blessed Karl of Austria (his relative) "for balancing being an Emperor and a great family father in a time of total breakdown. You see the pattern: Men who did the right thing in very difficult times," he explained to the journalist who interviewed him.
He also explained his love for Hungarian Cardinal Mindszenty, "who stood up first against Nazism and then against Communism. I sincerely hope he'll be beatified soon."
"There's one great female exception. My favorite spiritual writings are the autobiographical writings of St. Therese of Lisieux. She's a giant in a small Carmelite cell," the archduke added.
A man of prayer
The ambassador is also a man of prayer. As he explained in the interview, he manages to pray Lauds almost every day, as his "central and most important prayer time." How does he manage it? "I do it before we wake up the kids, with a steaming cup of coffee, which of course reminds me of the old Jesuit and Dominican joke about whether you're allowed to smoke while praying." He went on to say: "I try to sing my lauds. I have really found that 'he who sings prays twice.'"
He also appreciates praying with his children at lunch or at night, because he tries to use them as "real prayer times and not just as some ritual." He also attends Mass whenever he can during the week, he explained.
Finally, the interviewer wanted to ask him if his family still hopes to recover his titles and if in the future he could aspire to the Austro-Hungarian throne, a topic about which he did not want to speculate. When asked, he laughed a little and answered, "Ha, ha, ha. I won't answer this one. Better keep 'em guessing."
Read more:
Blessed Karl: A Holy Emperor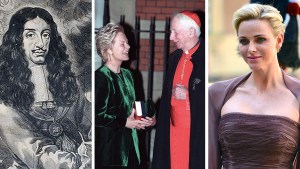 Read more:
7 Royals who chose the Catholic faith over their royal status