Watch this fine work of confectionery art come together in a time-lapse video.
A freshman engineering student from Stanford University has used his vacation time to help the homeless. Joel Kiernan has built a beautiful gingerbread cathedral, which is set to be raffled off for the benefit of St. John's Homeless Shelter in Green Bay, Wisconsin..
In an interview with NBC26, Kiernan explained that his winter break was longer than usual due to COVID-19. With over seven weeks of free time on his hand, he was looking for a project to occupy his time. That's when he got the idea to get involved with the local homeless shelter, St. John's, which had recently opened a second shelter and could use the help. 
Drawing on his childhood love of baking and inspired by the Notre Dame de Paris Cathedral, Joel decided he would make a gingerbread cathedral. The NBC report notes that the finished piece required 10 batches of gingerbread, 10 pounds of flour, four jars of molasses and around 150 work hours to complete. Joel even got his family involved, as can be seen in the time-lapse video of the construction effort, featured above.
An eye for detail
This finished product is a highly detailed little cathedral, complete with flying buttresses. The aspiring engineer even included an interior light, so the colorful windows light up. While the confectionery cathedral looks delectable, it was rendered inedible by the use of glue.
Be that as it may, Joel's piece is the driving force of the raffle, which has already brought in nearly $4,000 for the homeless shelter. The finished holiday artwork measures 20 inches long, 12 inches wide, and another 12 inches tall.
In an interview with Catholic News Service, provided by Crux Now, Kiernan said that his faith guided him to support the homeless with his efforts. He said:
"What I have come to appreciate … about faith and religion is that it's about looking out bigger than just yourself. It's looking out for the other person, kind of seeing the face of Jesus in every person." He added, "I think that definitely has been a reason why I do projects like this. I've done other projects, too, and religion plays a big role in that, just in terms of aspiring to look out beyond yourself and trying to help others."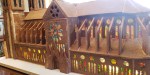 Read more:
Gingerbread Notre Dame replica wins Newark competition