The "Pilgrimage in Faith" will take attendees through 40 Holy Land sites in 40 days.
You can get Aleteia inspiration and news in your inbox. Our specially curated newsletter is sent each morning. The best part? It's free.
Sign up here
A trio of Catholic groups has organized an extensive 40-day virtual Lenten pilgrimage through the Holy Land. The program, called "Pilgrimage in Faith," begins on Ash Wednesday (February 17) and will culminate in an Easter Sunday reflection on the journey. The whole pilgrimage is free to attend, but virtual pilgrims must register for the event on the Magdala website.
CNA reports that this virtual pilgrimage comes thanks to the Pontifical Notre Dame of Jerusalem Center, Terra Sancta Mexico, and Magdala. This is the second year that the three organizations have come together to hold a virtual pilgrimage. The previous incarnation was held in October 2020.
The 2021 "Pilgrimage in Faith" will draw together three aspects of the faith: The Creed, Lent, and the Holy Land. The Creed, referring to the Apostle's Creed, is a meditation on what makes us Catholic. From Magdala:
The Creed is who I am, my true essence, capturing the total dynamic of my life, divinely loved from creation, to death, to everlasting life in the communion of redeemed humanity, sharing in the everlasting infinite joy of the Trinity; this is a 'Pilgrimage in Faith.'
Reflections and holy sites
With regard to Lent, the pilgrimage offers meditations on liturgical texts to guide pilgrims through a renewed "turning toward God" in trust. This, Magdala writes, is reflective of the same way God turns towards each of us with an outstretched hand. The "Pilgrimage in Faith" will offer meditations on the scriptures each day of Lent, to keep the faithful engaged throughout the solemn season.
Last but certainly not least is the Holy Land, the prime attraction of the "Pilgrimage in Faith." The program will take attendees to various sites that "capture the revelation Abraham experienced" during his own travels in the promised land. Each day the virtual event will bring pilgrims to a different site of biblical relevance. The sites, they note, are chosen to illuminate the meditations on the Creed.
The "Pilgrimage in Faith" is set to be a fun, educational, and faith-entrenching journey that will last for the entirety of Lent. Those who take part in the journey will be treated to a soundtrack composed by the Consecrated Women of Regnum Christi and the RC Music Collective. In addition, participants will all be entered into a raffle to be held on Easter Sunday, which will send several gifts to some participants.
The whole affair is set to kick off with two days of introductory videos on February 15, before the pilgrimage formally begins on Ash Wednesday. Click here to register now and join the "Pilgrimage in Faith."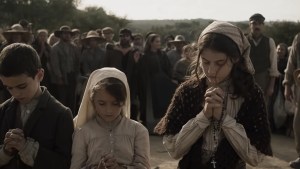 Read more:
With Fatima shrine closed, a virtual pilgrimage is organized