Even though he never spoke a word in the Bible, St. Joseph led a remarkable life, and his legacy lives on to this day.
One of the most popular saints in Christianity is St. Joseph, husband of Mary. Even though the Gospel writers didn't record any words that he spoke, his life remains an inspiration to many, and countless souls have turned to him in their time of need.
Here is a brief list of the most viewed articles on Aleteia about St. Joseph that help explain his life, miracles and legacy. You can click on each title to learn more information.
---
The life of St. Joseph
---
Who were St. Joseph's parents?
As with Sts. Joachim and Anne, very few details have been passed down to us about the parents of St. Joseph. At the same time, we do know with certainty the father of St. Joseph, though it can be confusing at first.
In the Gospel of Matthew, St. Joseph is listed as the son of "Jacob" (Matthew 1:16). However, in the Gospel of Luke, his father is listed as "Heli" (Luke 3:23).
What did St. Joseph actually do as a carpenter? 
The original Greek passage describes Joseph as a "tekton," which had various meanings in the ancient world. According to one scholar, "Etymologically, the Greek term tektōn can be traced back to the Indo-European root tek- or teks- meaning to cut or fashion with an axe, but it also refers to weaving, building, fabricating and joining." Additionally, "passages from the Iliad and the Odyssey have shown that tektones work with all kinds of materials and tools."
How old was St. Joseph when Jesus was born? 
Many biblical scholars and historians believe Joseph was a young man, possibly even a teenager. The International Marian Research Institute states, "We believe that Mary and Joseph were both in their teens when Jesus was born, around 16 and 18 respectively. This was the norm for Jewish newlyweds at that time."
A journey to Jesus' childhood home, the House of St. Joseph
A short distance away in Nazareth – on the other side of the Franciscans' sprawling complex – is another church of importance to the Christian pilgrim: St Joseph's Church. According to an ancient tradition, it is believed this church was built over the house and workshop of St. Joseph. This would have been the home of Mary and Joseph following their marriage. The church also goes by the names Church of Nutrition and the Church of Joseph's Carpentry.
Most biblical scholars believe Joseph died prior to Jesus' crucifixion. This is mainly due to the fact that Joseph was not present at the crucifixion and in the Gospel of John, Jesus entrusts his mother to someone outside the family (cf. John 19:27).
Keeping in mind this historical scenario, many traditions hold that Joseph died in the arms or presence of Jesus and Mary. It's a beautiful image, one that has led the Church to proclaim Joseph the patron saint of a "happy death."
---
The miracles of St. Joseph
---
The day St. Joseph built a staircase in New Mexico
Tradition claims the mystery of the identity of the carpenter has never been satisfactorily solved, and there is not even a delivery report that might help decipher where the wood came from. During those three months, no one saw anyone entering or leaving the chapel.
As the carpenter left before the Mother Superior could pay him, the Sisters of Loretto offered a reward to anyone who could his make identity known, but no one ever showed up. So, yes: since then, the crafting of the staircase has been attributed to St. Joseph himself!
When St. Joseph appeared in France he left a miraculous spring of water
Compared to the numerous apparitions of the Blessed Virgin Mary, there are relatively few approved private revelations of St. Joseph. But there are some. One of those approved appearances of St. Joseph occurred in Cotignac, France, on June 7, 1660.
On an extremely hot summer day, the humble shepherd Gaspard Ricard was parched with thirst. His flask of water was dry and he was no where near a stream or body of water. Ricard sat down on the grass in agony.
At that point an older man suddenly appeared to him and said, "I am Joseph. Lift it and you will drink."
Saint Andre Bessette and the intercession of St. Joseph
Brother Andre convinced the provincial to buy the land opposite the school, where he was permitted to build a small chapel in honor of St. Joseph. That chapel wasn't enough for Brother Andre, however. It only had space enough for a handful of people. So, Brother Andre began fundraising for a massive church – a shrine that would become the largest church in North America at the time of its completion. In 1924, the St. Joseph's Oratory was completed, and thousands of pilgrims began to come annually to venerate St. Joseph and seek his intercession. They came also to meet with Brother Andre – for the doorkeeper had created quite a commotion with a reputation as a miracle man.
Why St. Joseph is called the "Terror of Demons" 
St. Joseph played a pivotal role in the life of Bl. Bartolo Longo, a former Satanic priest. Calloway writes in an article for FOCUS that, "He was also very devoted to St. Joseph, prayed to him every day, and was particularly fond of his title 'Terror of Demons.' Bartolo had such a great love for St. Joseph that he told everyone to go to Joseph in their fight against temptations of any kind."
Longo is reported to have said, "It is a great blessing for souls to be under the protection of the saint whose name makes demons tremble and flee."
---
The legacy of St. Joseph
---
The churches around the world named for St. Joseph
In addition to his role as patron of the Universal Church, St. Joseph, the foster father of Jesus, also is patron of many local parishes.
As a sign of his universal appeal, we find his patronage invoked in parishes and dioceses from the Holy Land to Hanoi.
Here, then, are just a few prominent churches dedicated to the Husband of the Blessed Virgin Mary.
Why St. Joseph's name was omitted from the Eucharistic prayer at Mass
It took until November 13, 1962 for Pope John XXIII to insert the name of St. Joseph into the first Eucharistic Prayer. Then on May 1, 2013, the Congregation for Divine Worship and the Discipline of the Sacraments promulgated the decree Paternas vices, inserting the name of St. Joseph into Eucharistic Prayers II, III and IV.
What is a Saint Joseph's Table?
Since the 15th century his feast day has been celebrated on March 19, a day that typically falls right in the middle of Lent, but that hasn't stopped the laity from orchestrating a great feast in his honor.
In particular, Italians have had a special love of St. Joseph, and a famous miracle led the people of Sicily to begin a tradition known as the Tavola di San Giuseppe (Table of Saint Joseph).
8 Devotions to St. Joseph that lead you closer to Jesus
St. Joseph has a deep affection for all of us and he desires above all else to bring us closer to his Son, Jesus Christ.
He accomplishes this task in many ways, and one of them is through the various devotions that have been developed by the Church over the centuries.
Listed in this article are 8 popular devotions to St. Joseph that are aimed at deepening our relationship with Jesus.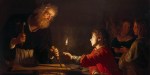 Read more:
This ancient prayer to St. Joseph has "never been known to fail"