Caritas aims their aid at this generation of Syria's youth, who "have known nothing but war."
The Catholic charity Caritas is launching an aid campaign in Syria as the country marks a decade of civil war. The aid is going towards the children of Syria, many of whom have never known a time of peace. The campaign is focusing on providing medical, humanitarian, and educational resources.
The Syrian conflict
According to Caritas, the Syrian conflict marked its 10th anniversary on March 15, 2021. The report paints a grim picture of the continuously wartorn land, in which an estimated 11.1 million people are in need of some form of humanitarian aid. Caritas notes that the situation was bad enough before the world pandemic, but now they project an increase in need with the rise of COVID-19.
The charity goes on to report that nearly 80% of the Syrian population lives below the poverty line. Those in the most need include pregnant women, young girls, people with disabilities, and the elderly. Most of all, however, the situation Syrian children find themselves in is of most concern. Caritas writes:
Children, the first victims of the war: Syrian children have known nothing but war. They have learned to hide at the first sound of bombs, they have said goodbye to their loved ones and friends forced to emigrate or who have been killed in the fighting. But above all, they risk being deprived of their future. At the end of 2019, it was already estimated that 2.45 million Syrian children, or one in three, were not attending school.
This educational crisis, however, has only worsened since the world pandemic began. Caritas noted that since 2020, a further 50% of children who were attending school have stopped. The organization warns that such a low education rate could have devastating consequences for Syria's future.
"Tomorrow Is in Our Hands"
To address these concerns the Caritas campaign, called "Tomorrow Is in Our Hands," is focusing on education. They will set up education sites, where children can attend classes and help avoid the "trap of child labor." Each day at school, children will receive an energizing meal based on international nutrition indicators.
Caritas notes that one major challenge of COVID-19 is the pandemic's diffusion among children and its consequent transmission to adults. In order to counter this trend, they are further organizing special workshops which will teach children hygienic ways to prevent the spread of COVID-19.
According to CNA, this campaign comes after Pope Francis encouraged charities to work in Syria in late 2020. Pope Francis said:
"Every effort — large or small — made to foster the peace process is like putting a brick in the construction of a just society, one that is open to welcome, and where all can find a place to dwell in peace." Pope Francis added, "My thoughts go especially to the people who have had to leave their homes to escape the horrors of war, in search of better living conditions for themselves and their loved ones."
Interested parties can donate to individual aspects of the campaign. To donate to this cause, visit Caritas.org.
Learn more about what Catholic charities are doing in Syria at Catholic News Agency.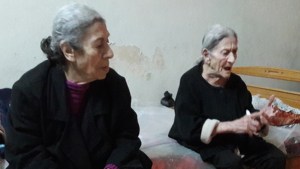 Read more:
After ten years of war in Syria, here's what can be done today to help