Find the perfect present for every woman on your list and support small Catholic businesses while you're at it!
Believe it or not, it's time for Christmas shopping, and best to get started early this year. We've searched high and low to find you the very best gifts from small Catholic shops. Hopefully this list will help you find the perfect thoughtful item to delight the women you love!
Apparel
A Brick House in the City shirt or cardigan is stylish and comfortable (and here's our review!).
Zelie and Lou has the coziest Catholic-inspired loungewear.
If she needs a glamorous dress-up outfit, find the perfect ethically made piece from Litany NYC.
Paris Bloom has simple. elegant dresses for church and holiday occasions.
Everyone needs T-shirts, and Little Way Design Co. has lots with Catholic themes.
We love the retro line of Catholic shirts from Holly Loo Yah Designs.
Check out the faith-filled T-shirts from Little Rose Shop.
Channel a cool, casual vibe with the modern saint T-shirts from Pycnocline.
Jewelry
Find meaningful jewelry and accessories inspired by faith at Pink Salt Riot.
We love the classic yet affordable Catholic jewelry at Telos Art Shop.
Give a high-end, elegant piece of jewelry with Catholic meaning from Saint and Stone.
These rosary bracelets are not only eye-catching jewelry, but also make it easy to pray throughout the day.
Delight in stylish, modern rosary bracelets from Sunday Bead Co.
The jewelry from Iron Lace Design is "strong enough for a samurai but fit for a fairy-tale queen."
Accessories
Infuse elegance into her style with Ever Thrift's beautiful silk scarves with Marian symbolism, as well as their Classic French market tote bag.
Find chic and practical scrunchies, headbands, and bandanas from Be A Heart Design.
She'll feel chic in this distressed baseball cap featuring the Jesuit motto, AMDG (ad majorem Dei gloriam, meaning "All for the greater glory of God!").
Who doesn't love a cozy pair of socks? We can't get over the fun goods at Sock Religious.
We love the look of these vibrant, faith-inspired duffel bags.
She can hit the gym in style with this large, sturdy gym tote.
This pretty floral tote bag from Fawnly is endlessly useful and lifts the spirits.
Upgrade her travel storage with a whimsical hand-sewn pouch.
Home Goods
We can't get enough of these elegant mugs or these bright, floral mugs to brighten her winter mornings.
She can jump on the color-changing cups trend (and stay hydrated!) with this eye-catching Catholic version.
If she loves to cook, a festive and bright apron will be a welcome gift.
A tea towel is both useful and pretty, especially this one featuring the liturgical calendar or these bleach-dyed beauties.
Anyone who appreciates fine linens and a well-set table will fall head-over-heels in love with the gorgeous offerings at Lovely Lady Linens.
If she's a fan of handwritten snail mail, she'll make great use of these stunning greeting cards or pretty sets of postcards.
Keep her hands comfortable with these Catholic-themed cozies!
The lady who loves to host will get endless use out of this elegant, Marian-themed charcuterie board.
A Sacred Heart Golden Milagros Ornament makes a statement in the home.
Does she love a good game night? Check out these fun and clever Catholic board games. Out favorite is the hilarious and incredibly fun Catholic Card Game!
Candles
CORDA candles are dedicated to sharing the Gospel through their delightful saint-themed candle scents.
Stella Maris & Co. hand-poured candles celebrate the riches of Catholicism's beautiful symbols, scents, and sacramentals. 
This small shop makes high-quality 100% beeswax candles that have a wonderful scent, burn for a long time, and look gorgeous. 
Sword & Crown candles are hand-poured from high-quality soy wax with unique blends of fragrance and essential oils. 
Personal Care
Find her the perfect lip balm and lotion from Catholic Balm Co.
Support a monastery and enjoy luxurious bath products with a self-care box from Monastery Creations.
We're adding these fragrant bath bombs and hand soaps to our Christmas list (and they support a great cause!).
Take time for rest and relaxation with sugar scrubs and other divine bath products made at a Benedictine monastery.
Treat her to a box full of high-quality personal care products, all inspired by faith, with the Disciple Glory and Shine gift box.
Everybody needs soap! Order a box of handmade, all-natural soap from the Benedictine Sisters of Perpetual Adoration.
Stocking Stuffers
The Rosary Card is a must-have item for every Catholic wallet.
Enamel pins add instant flair to lapels, diaper bags, tote bags, whatever! We love these from Studio Senn, When Beauty Met Truth, and Be A Heart Design that feature saints and pretty religious images.
Add a Tiny Saints charm to her keychain for a sweet reminder of heaven.
These beautiful, sturdy vinyl saint stickers (more options here, here and here) can be used to decorate water bottles, tablets, or any other special item. (We've got this St. Gianna sticker on our Christmas lists!)
Ladies who like to craft will appreciate these embroidery kits and patterns.
Specialty Foods
Treat her to tasty coffee for a good cause through the Guadalupe Roastery.
Coffee and tea lovers will enjoy the offerings from Mystic Monk (and support a monastery at the same time!).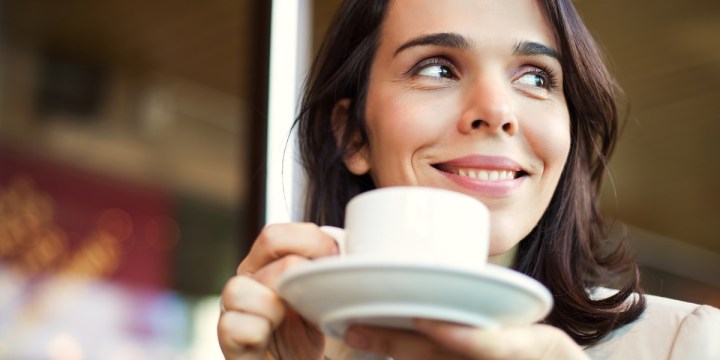 bokan | Shutterstock
She'll stay "grounded in faith" with the heavenly roasts from Catholic Coffee.
These chocolates and caramels made by contemplative nuns are the best she'll ever try, we promise!
Enjoy creamed honey in a variety of flavors, made by Benedictine monks.
Peanut butter fans will love these Peanut Brother goods from St. Meinrad Abbey.
The monks of Subiaco Abbey make this deliciously hot Monk Sauce.
Journals and Planners
There are two kinds of people: those who would be thrilled to get a planner for Christmas, and those who … would not. If she's the former, we recommend this modern Catholic planner from Be A Heart and this gorgeous planner from Blessed Is She (also available in a mini version).
The Monk Manual, a planner based on timeless monastic principles, encourages living with depth and purpose.
The Saintmaker Planner combines wisdom from the lives of the saints with the modern science of personal productivity. The result is an advanced life-planning system that's steeped in ancient wisdom.
Every Sacred Sunday is an elegant prayer journal based on the weekly Mass readings. It's on our Christmas list!
Similarly, a Catholic Journaling Bible will help her grow closer to Our Lord through Sacred Scripture.
Books
Approach the heart of the Christmas season with this stunning new book, Emmanuel: A Christmas Feast Devotional.
If she's got a green thumb, she'll treasure Garden Maker: Growing a Life of Beauty and Wonder with Flowers.
A copy of Theology of Home or its second installment Theology of Home: The Spiritual Art of Homemaking is sure to be her new favorite (and here's our review!).
Hand Lettering for Faith helps women meditate on Scripture while creating 40 pieces of handmade art.
A spiritual book like Mere Christianity or The Screwtape Letters would be a treasure of a gift.
Habits for Holiness is a modern classic, and don't forget a conveniently sized Pocket Guide to Adoration!
Letters to Women: Embracing the Feminine Genius in Everyday Life brings encouragement for all Catholic women in their vocations.
If she's expecting a baby, she'll appreciate a copy ofMade for This: The Catholic Mom's Guide to Birth.
Mamas can find a spiritual lifeline in The Ave Prayer Book for Catholic Mothers.
Moms of children with special needs will find hope and encouragement in Better Than OK and Different.
If she's one of the many people listening to the Bible in a Year podcast, she'll love her own copy of The Great Adventure Catholic Bible.
In You Are Enough: What Women in the Bible Teach You About Your Mission and Worth, Danielle Bean uses stories of women in the Bible to show the truths of God's love and woman's inherent dignity.