With his hidden life, Jesus blessed the work of man.
"Our Savior Jesus Christ, becoming a carpenter during his hidden life, blessed the handwork of man," reflects one of the religious sisters of the Monastery of Bethlehem, in Livingston Manor, New York, in presenting the beautiful work done by her community.
The sisters, she says, "in their hidden life, follow his example, and each one strives to put the talent received from God at the service of his brethren."
With this spirit of prayer, the nuns produce beautifully handcrafted Nativity scenes in a variety of colors and designs.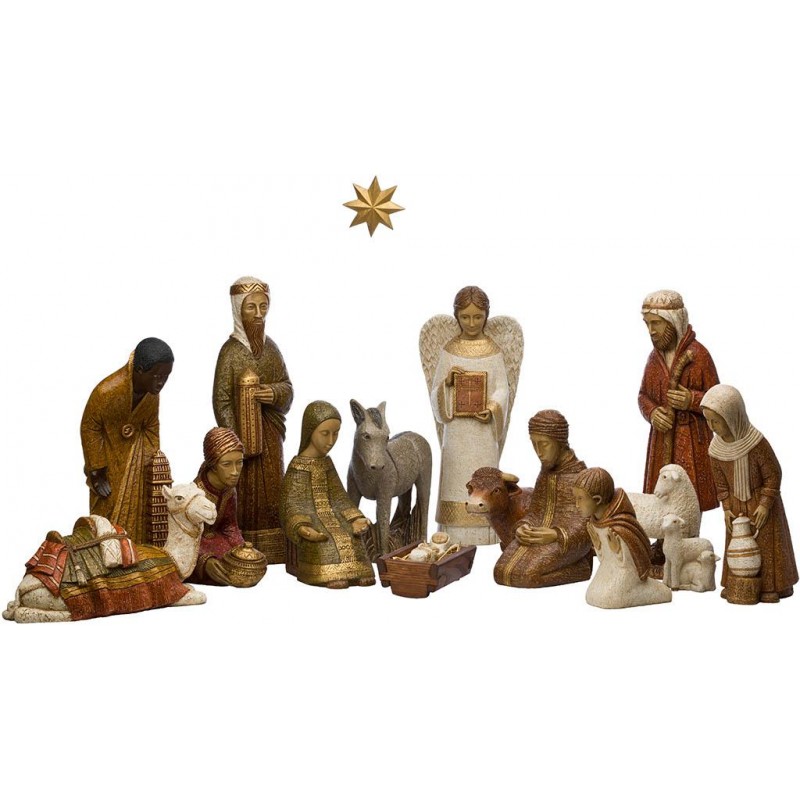 Courtesy of Monastery of Bethlehem
The Crèches are made in the style of Nativity scenes as they have been traditionally crafted all over the world for centuries.
The figurines are made of dolomite, a mixture of synthetic resin and stone powder. They are made from molds, then individually carved to add details. Finally, they are hand-painted to create one-of-a-kind treasures. These Crèches are made by the "Atelier Saint Joseph" in the sisters' monastery in Mougères, France. 
In addition to the Nativity scenes, the nuns craft ornaments and chinaware, as well as crucifixes, medals, icons, candles and beads for the Jesus Prayer.
With this art, says the sister, "we wish to say with our hands what our lips cannot express: The Good News of God's Love for each human person, his Beauty, his Care, his Presence, and we want to spread most extensively the peace of his Blessing."
The sisters' work blesses them even as it blesses those who purchase it:
The work of man ennobles him and the pain it requires, when assumed in prayer, has a redeeming and purifying value.

This handwork lifts up our souls toward the Creator, who is the unceasing Builder of the world, and unites us with every worker in our society who sustains the common life.
Courtesy of Monastery of Bethlehem
See more of their work here:
Bethlehem Crèche:  Individual figurines (4-7 in.) are available for purchase to form a complete Nativity set. Purchasers have the choice between a simpler Crèche made up of Mary and the baby Jesus with Joseph, or a larger scene that includes, angels, Magi, Shepherds, animals, a gold star and a stable.
Crèche of Autun:  This stunning Nativity set is hand-painted in a radiant whitewash. Available for purchase is a set of hand-painted figurines (3 1/2-10 1/2 in.): Mary, Joseph, and Baby Jesus. Also available: an angel, shepherd, Magi, and animals.
The beautiful Lozenges pattern chinaware is inspired by traditional Eastern patterns and is painted in two colors: blue and red. Depending on the size and the shape of the piece on which it is painted, it gives an impression of a star, of growing circles or of a spiral. In it, geometric shapes and intricate movements harmonize. 
The sister concludes with Scripture:
After creation "God saw all what he had done, and behold, it was very good!" Genesis 1:31