While they all serve as places of worship, they differ in terms of their purpose, size, hierarchy, and function within the Catholic Church.
The Catholic Church encompasses a rich, diverse tapestry of spiritual and architectural traditions and expressions. Comprising 24 autonomous churches in communion with one another (one Western church and 23 Eastern ones), the Catholic (that is, universal) Church also uses various types of sacred spaces, playing distinct roles within its tradition.
Among these spaces, cathedrals, basilicas, shrines, parishes, chapels, and hermitages hold special significance. While they all serve as places of worship, they differ in terms of their purpose, size, hierarchy, and function within the Catholic Church.
Cathedral
A cathedral is the principal church of a diocese, which is an administrative division of the Church led by a bishop. Cathedrals are usually grand in scale and architectural design, reflecting the importance of the bishop's seat and serving as the focal point for major liturgical events.
It is important to remember that cathedrals are not limited to specific architectural styles and can be found in all historical periods. In short, not all Gothic buildings are cathedrals, and vice versa.
As bishop of Rome, the pope's cathedral is St. John Lateran.
Basilica
A basilica, on the other hand, is a designation bestowed by the pope to certain churches that hold historical, spiritual, or architectural significance. In fact, basilicas may or may not be cathedrals. They are often large and contain notable relics, artwork, or historical connections. Basilicas typically have a specific (Roman) architectural layout, with a long nave, side aisles, and an elevated sanctuary. Some of them serve as pilgrimage sites and are often associated with major saints or events.
Shrine
A shrine is a sacred place dedicated to a specific saint, apparition, or miraculous event. It is a site of intense devotion and attracts pilgrims seeking spiritual solace or healing. Shrines can be found within cathedrals, basilicas, or as standalone structures. They often house relics or icons associated with the saint or event, and provide spaces for prayer, confession, and spiritual reflection.
Two of the most famous Catholic shrines in the world are the Basilica of Our Lady of Guadalupe in Mexico and the Shrine of Our Lady of Lourdes in France.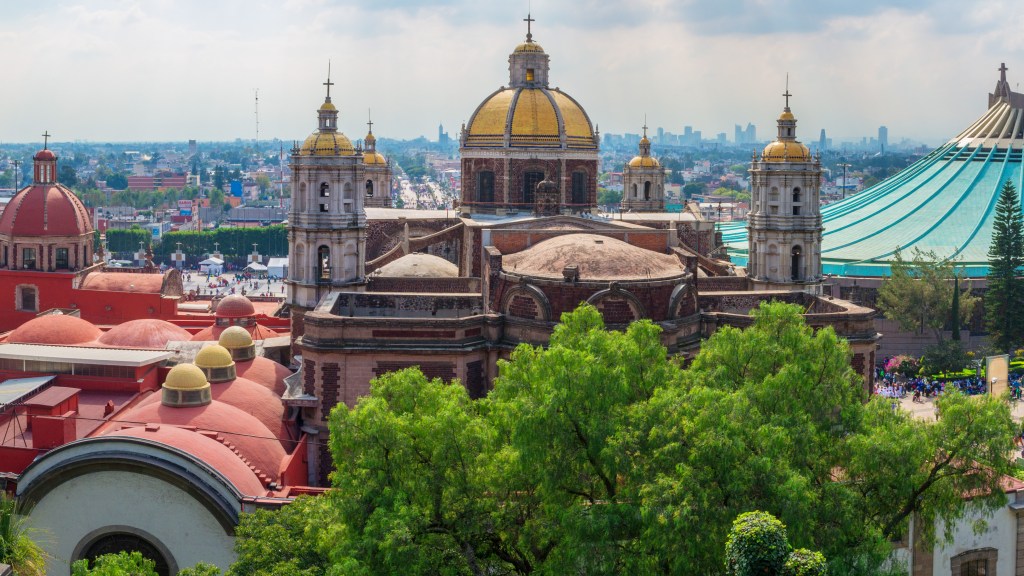 Belikova Oksana | Shutterstock
Parish
A parish refers to a local community of Catholic believers who gather for worship and spiritual guidance under the care of a parish priest. Parish churches are typically smaller than cathedrals or basilicas and serve as the primary centers of religious life for Catholic individuals and families. Usually, regular Masses and sacraments are celebrated and administrated, as well as educational, social, and charitable programs held for the local community.
Chapel
A chapel is a small, rather intimate place of worship that can be found in various locations, such as hospitals, schools, military bases, or even private residences. Chapels are usually associated with a specific institution or community and provide a space for prayer, smaller religious services, and personal reflection. They may be dedicated to a particular saint, theme, or purpose and are often simpler in design – especially when compared to cathedrals or basilicas. Some large churches, such as the National Shrine of the Immaculate Conception in Washington, D.C., feature many smaller chapels within them.
Hermitage
Finally, a hermitage is a secluded dwelling or a small community where hermits or monastic orders live a contemplative and solitary lifestyle. The name also applies to buildings formerly used for secluded, monastic life, and now open to the public either as places of pilgrimage or as small hostels for pilgrims.
Hermits are individuals who choose to live in solitude, dedicating themselves to prayer, meditation, and ascetic practices. A hermitage provides a tranquil environment away from the distractions of the world, enabling individuals to deepen their spiritual journey. While hermitages are not exclusive to the Catholic Church, they have been historically associated with the monastic tradition.
In summary, while all these spaces are sacred and serve as places of worship, they differ in terms of their purpose, size, hierarchy, and function within the Catholic Church. Cathedrals and basilicas hold prominent roles within the hierarchy and often feature grand architecture, while shrines are dedicated to specific saints or events and attract pilgrims. Parishes serve as local centers of worship and community, chapels provide smaller worship spaces in various settings, and hermitages offer solitude for individuals seeking a contemplative lifestyle. Each of these spaces contributes to the diverse spiritual landscape of the Catholic Church, catering to different spiritual needs and expressions of faith.