In 16 days, Fréderic de Lanouvelle and his 16-year-old daughter Mathilde drew a heart over France on a tandem bike, earning a Guinness World Record.
Fréderic de Lanouvelle, a former journalist and father of four daughters, has always been an ultra-athletic adventurer. He wanted to mark each of his daughters' birthdays in a unique way. First, he ran the approximately 155-mile Marathon des Sables with his eldest daughter Cécile. Then, he took his youngest daughter Mathilde, 16, on an adventure to earn a Guinness World Record!
"Drawing" a heart with GPS
The goal (which they achieved) was to complete the largest GPS drawing on a bike, and specifically on a tandem bike. In this case, they "drew" a 1,340-mile heart across France! It was a physical and athletic feat, but also one that benefited the community. They used the initiative — dubbed "A Heart This Big!" — to raise funds for the charity Heart Surgery for Children of the World (Mécénat Chirurgie Cardiaque Enfants du Monde). The organization has already received nearly 22,000 euros thanks to Frédéric and Mathilde's efforts.
FdeLanouvelle
Setting off from Lyon on August 16, the father and daughter rode more than 90 miles a day. They used three GPS units to get as close as possible to the shape they were aiming for. They also brought notebooks, receipts, documents, etc. which they had witnesses stamp three times a day in order to certify the accuracy of their itinerary. The Guinness Book of World Records requires such strict documentation before they will confirm that a new record has been set.
FdeLanouvelle
More than a record
Though he and Mathilde set a world record, Frédéric embarked on this adventure above all to experience a unique moment with his daughter. "These are truly special moments that will mark us for life, leaving us with lasting memories," the father tells Aleteia. "There was a lot of talking, a lot of confidences, and a lot of laughter at the difficulties we encountered, which cemented our father-daughter relationship." Frédéric also mentioned more profound moments "when we could talk about our values, our faith, and our relationship with God." Every morning, father and daughter took time to pray together before mounting their bike.
Arriving in Lyon on Thursday August 31, they were reunited with the rest of the family, who had been following the day-to-day formation of this beautiful heart. The children then returned to Aix-en-Provence to prepare for the new school year. Frédéric now has three years ahead of him to think about the next feat he wants to achieve with his third daughter!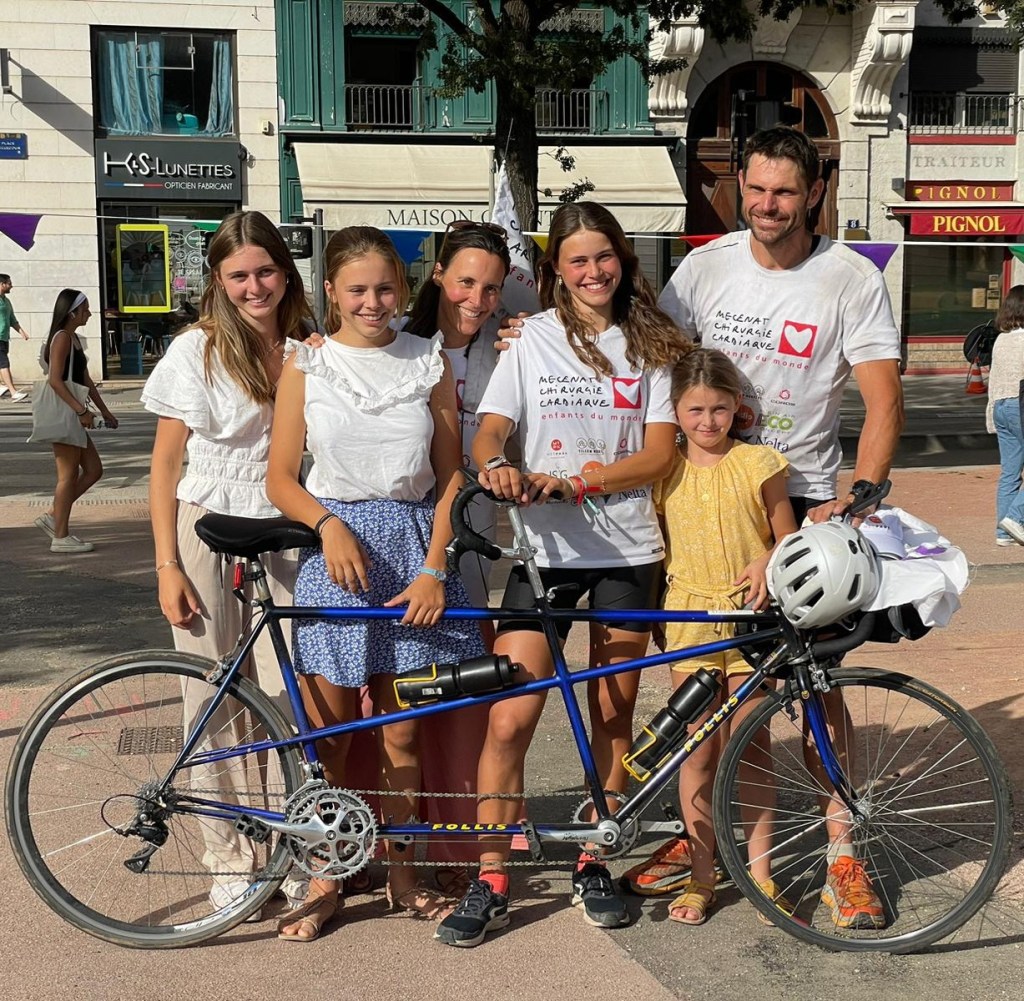 FdeLanouvelle