Check out the sweetest way for children to learn sacred music that they can play themselves on a beautiful instrument.
Do your kids love to sing and bang away on musical instruments? You can give their efforts a beautiful purpose (and fun!) with the sweetest way for kids to learn sacred music that they can play themselves!
It's called Playful Pitch, and it's the brilliant creation of Kelly James, a music teacher and mother of four, and her husband, Christian.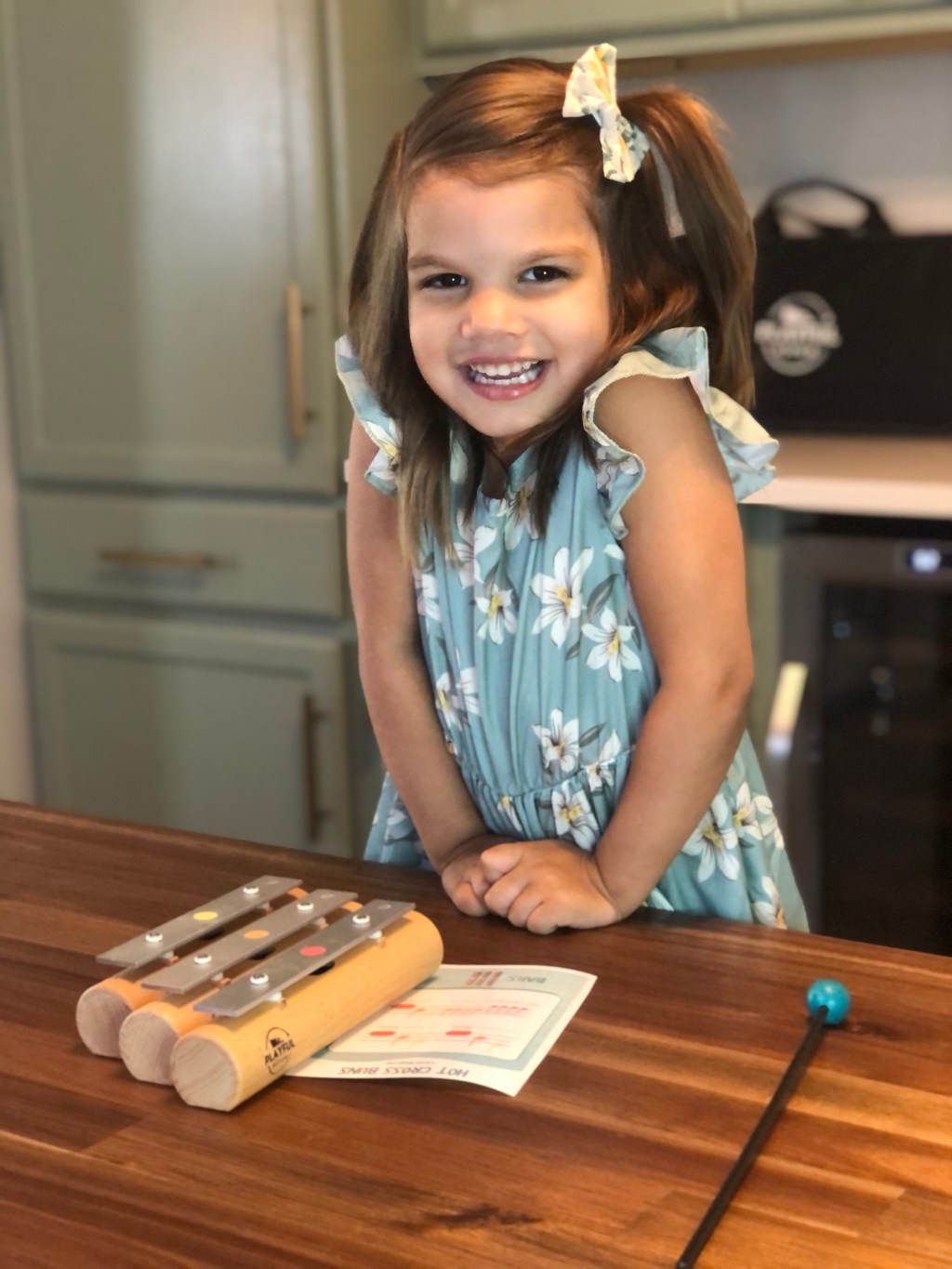 Courtesy of Kelly James | Playful Pitch
Inspired by children
Kelly has taught music in Catholic schools, public schools, and international schools abroad. Today, she is the mother of three children and expecting her fourth. 
"After earning my Master's Degree and researching child-led music learning, I dove into Montessori philosophies and applied them to music making," she said in an interview with Aleteia. "My students and my own children inspired my work and research."
As prayer and praise are naturally woven into their family's daily life, Kelly and Christian saw that their children desired to make music themselves. 
"We believe that every child is naturally musical, and that given the right tools, they can make beautiful music," she said, "through play-based discovery and intuition."
Making music is a natural part of human life and should not be something exclusive or inaccessible. Playful Pitch brings music making into family homes in a way that any family can achieve, even if the parents aren't musically inclined.
Kelly said:
Music making doesn't have to be an expensive, formal, time-consuming chore. By our nature, humans are musical, from the time we are born until we die. And the introduction to music making should be natural, fun, and child-led. If we focus on making music joyful and point it toward a greater purpose, we will create lifelong lovers of music, and more importantly, little souls who are pointed to Him. 
This desire to help more families make music easily and with joy led to Playful Pitch.
"Our mission is to get more quality instruments in the hands of children, and more songs of praise on their lips," she said.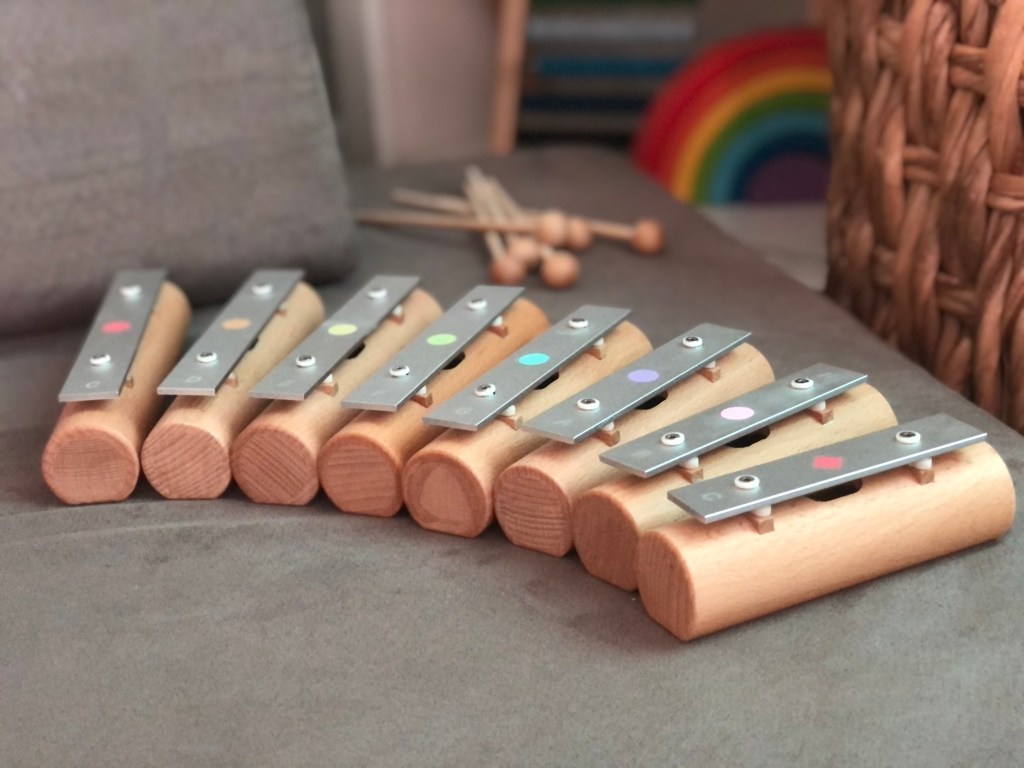 Courtesy of Kelly James | Playful Pitch
What makes it different?
What sets apart Playful Pitch from other musical options for young children? Quite a lot of things, especially quality and content.
Before starting Playful Pitch, Kelly and Christian were discouraged when they sought early-learning musical instruments for their kids and couldn't find what they were looking for. Kelly said:
When I was shopping for an instrument for my children, I could only find instruments on two ends of the spectrum. Either cheap, plastic, obnoxious toys with artificial or terrible sounds, or real, beautiful instruments that cost hundreds and thousands of dollars and were for much older children. I couldn't find what I thought should be in every child's home: an affordable, real instrument, made with natural, quality materials that produced beautiful sounds. I wanted an instrument that could be simplified for young learners and played by children of any age. When I couldn't find it, I designed it, and the Playful Pitch Bars were created. 
The bars are all separate, individual, color-coded pieces. The ability to separate them is what makes them so child-friendly: As children learn songs, they don't have to work with all 8 bars but can simply take out the 3-5 bars they need for a particular song. "Instead of sitting at a piano, with 88 overwhelming black and white keys, the child can use just the few color-coded notes that they need," she said.
The color-coded notation that corresponds with the instrument allows the child to make music independently. Once a child is familiar with a song, he can follow the color-coded notation to make music all on his or her own.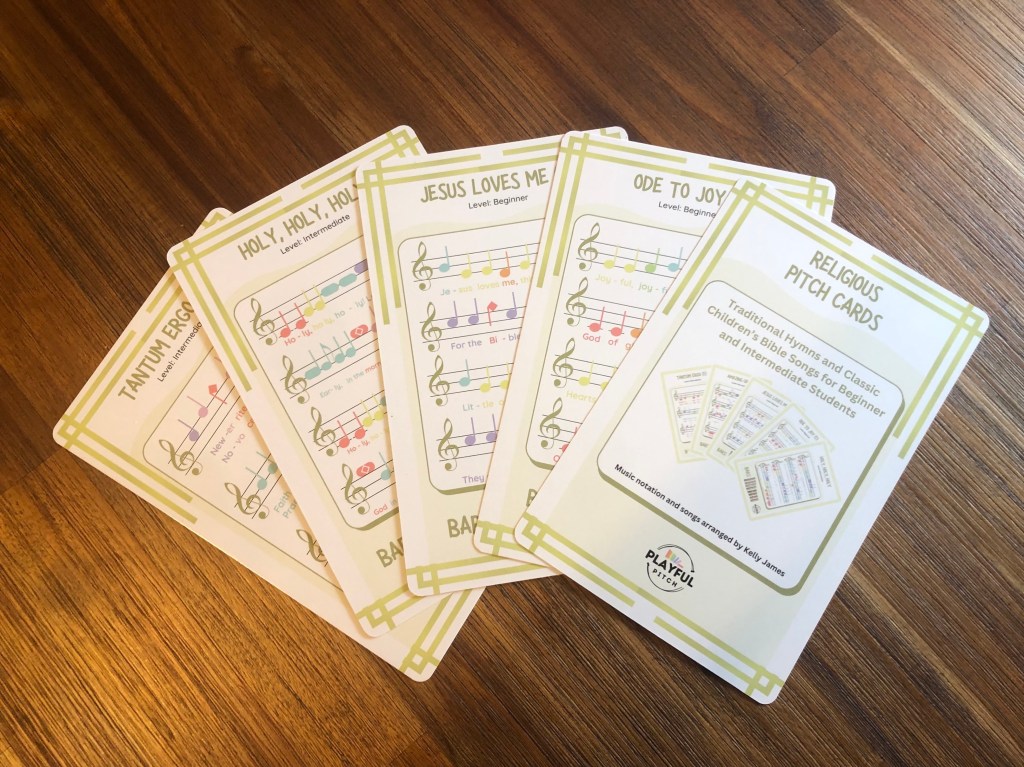 Courtesy of Kelly James | Playful Pitch
For Christian parents, one of the most meaningful things that sets apart Playful Pitch is that many of the songs the children learn are beautiful hymns, like Tantum Ergo or Ode to Joy. 
The Jameses have seen how fruitful Playful Pitch has been in their own family, and they are eager to share their creation with other families.
"Seeing our child, who struggled with speech and other developmental delays, learn to play music so naturally and confidently and with so much joy inspired us to bring this to other families," Kelly said. "It has been beautiful to watch him grow, both musically and spiritually, as he played Catholic songs he loved to listen to and sing."
Playful Pitch fully launches in late November. Add this one to your Christmas list, and enjoy singing and making joyful noise unto the Lord together as a family in the coming year!