What if a group of friars and nuns walked into a bar …
Need an idea for Lenten almsgiving?
Help us spread faith on the internet. Would you consider donating just $10, so we can continue creating free, uplifting content?
Make a Lenten donation here
If you check our short religious history of coffee, you will find that cappuccino owes its name not to its foamy "hood" ("cappuccio" being Italian for "hoodie"), but to the Capuchin friars, a Franciscan movement. You might also be surprised to see that, although accidentally, Carthusians helped create the perfume industry. Now, these curious facts won't really help you know what differentiates a Dominican from a Jesuit, why Discalced Carmelites are discalced, or how Capuchin friars are different from other Franciscans. But, believe it or not, summer drinks might do the trick.
In truth, properly answering these questions would imply going over the history of the Catholic Church. But there are also shorter, more humorous ways to tackle these issues. For example, we have explained (more or less) different Catholic religious orders by comparing them to sandwiches, coffee orders, and even cows. Summer demands that we think of the specific charisms of different Catholic religious orders, institutes and congregations by comparing them to some of our favorite summer drinks. And even if you think that the explanations lack a certain profundity, we hope they make you smile.
So, imagine a bunch of friars and nuns walk into a bar. Here's what they would order.
The Augustinian is first in line. He craves a cold pear martini, but immediately remembers Confessions, Book 2, Chapter 4, and beats his chest in regret:
There was a pear tree close to our own vineyard, heavily laden with fruit, which was not tempting either for its color or for its flavor. Late one night, having prolonged our games in the streets until then, as our bad habit was, a group of young scoundrels, and I among them, went to shake and rob this tree. We carried off a huge load of pears, not to eat ourselves, but to dump out to the hogs, after barely tasting some of them ourselves. Doing this pleased us all the more because it was forbidden.

St. Augustine, Confessions
The Franciscan sees a bottle of Frangelico hazelnut liquor in the shelf and giggles. The Dominican, who is standing right next to him, reminds him for the hundredth time that Blessed Fra Angelico was not a Franciscan but a member of the Order of Preachers – no matter how Franciscan the bottle looks! They each order one, on the rocks.
A Carmelite is third in line. He asks for a short glass of Licor Carmelitano from the monastery of the Desert of Las Palmas, in Valencia, Spain. The Discalced Carmelite, who is next, orders a warm Triple Karmeliet, to mortify his palate.
The Salesian approaches the bartender and asks him to turn on the TV in order to watch a soccer game. Soon enough he is teaching the bartender how to make the perfect gin and tonic.
Two Jesuits walk by the bar. One put his arm around the bartender's shoulder and asks him if he has thought about where to send his kids to school. The other one, who is sharing some snacks with the Franciscan, takes the bigger slider off the plate for himself. The Franciscan charitably complains: "St. Francis always taught us to take the meager piece." The Jesuit replies, "And so you have it."
The Benedictine reminds everyone that, according to Chapter 40 of the Rule of St. Benedict, "half bottle of wine a day is sufficient for each. But those to whom God gives the strength to abstain must know that they will earn their own reward."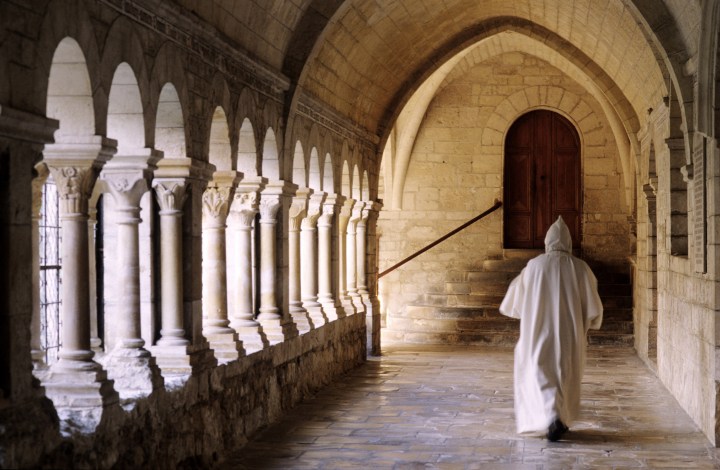 RIEGER Bertrand / hemis.fr / Hemis via AFP
The Trappist brings his own beer and shares it widely with everyone in the bar. The bartender finds his true calling.
If you are still a bit confused, try visiting the slideshow below, "A cow explains religious orders and congregations."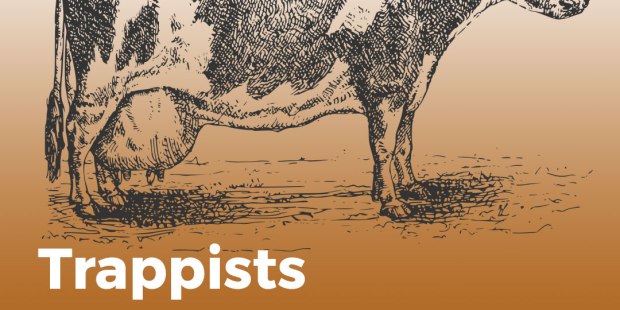 Launch the slideshow