To help you pray and support vocations, we've selected some inspiration ...
Then Jesus went about all the cities and villages, teaching in their synagogues, and proclaiming the good news of the kingdom, and curing every disease and every sickness. When he saw the crowds, he had compassion for them, because they were harassed and helpless, like sheep without a shepherd. Then he said to his disciples, "The harvest is plentiful, but the laborers are few; therefore ask the Lord of the harvest to send out laborers into his harvest."
The Church in the USA is celebrating National Vocations Week. To help you pray and support vocations, we've selected some inspiration, ranging from remarkable vocation testimonies, to concrete vocation advice from the Pope.
Find a lot more at our "vocations" tag HERE.
Testimonies!
You'll want to begin with the story of this millennial nun and her journey from Rutgers to the Sisters of Jesus Our Hope. Not only is her testimony edifying, but the images of her profession are simply beautiful. So much joy!
And here's another joy-filled profession, this time with the Dominicans:
And then there's this one:
Siblings!
Since Jesus called two pairs of siblings to be his apostles (Peter and Andrew; James and John) it shouldn't be surprising that over the centuries, many families have found the gift of a vocation planted not once but twice (or more) in their household.
Still, there's something so incredible about seeing these stories, from their first steps as young novices, all the way through their wise years. Here's just a few; you can find several more in our archives!
Discernment
Growing in an understanding of vocation is important for those discerning God's call, and also for those praying that God will send many harvesters to our oh-so-needy world.
Here's some teaching from the Pope himself: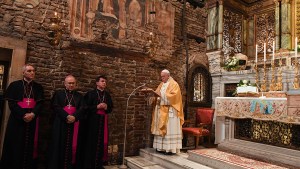 But the Pope isn't the only one with great advice. Check out this:
Ask the Lord of the harvest!
Jesus told us we need to PRAY for vocations. That can be as simple as telling him, "Lord send laborers!" But we can also lift our hearts with these prayers:
And lastly, don't forget to say something to the young people in your life!
For more testimonies, prayers, and explanations about all things vocation, check out our "vocations" tag HERE.